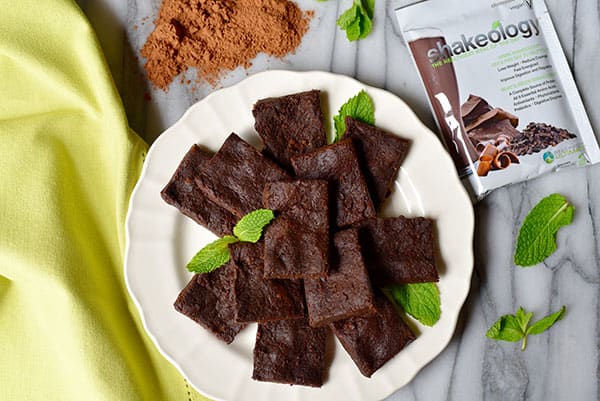 Ingredients
½ cup mashed ripe banana (about 1 medium)
½ cup all-natural smooth peanut butter
¼ cup unsweetened cocoa powder
1 TBSP coconut oil
2 scoops Vegan Chocolate
Shakeology
Instructions
Line an 8 x 8-inch pan with plastic wrap (or aluminum foil). Set aside.
Combine banana, peanut butter, cocoa powder, and Shakeology in a medium bowl; mix well with clean hands or a rubber spatula.
Press chocolate mixture into prepared pan. Cover with plastic wrap and press down to flatten into pan. Refrigerate for 1 hour so that brownies set.
Cut into sixteen brownies.
If you would like more recipes like this and support in your health and fitness journey, or to be considered for one of my accountability groups, fill out the form below.
HTML Forms powered by
Wufoo
.